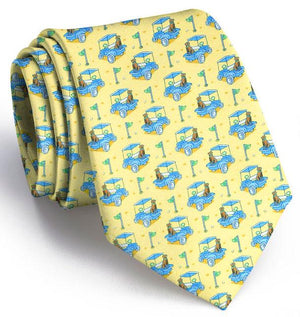 Golf Buddies: Tie - Yellow/Chocolate
The only thing better than a light round of 18 or man's best friend? Why, a tie that combines the two! Our Golf Buddies tie is the perfect way to show enthusiasm for two of life's great pleasures. Whether dressed up with a suit or your navy blazer and chinos, this silk will have you as the toast of the clubhouse!
Collared Greens and Bird Dog Bay's silk goods are woven, printed, and hand made by the same manufacturer in New York City. Each piece is a result of years of premium craftsmanship, environmentally friendly production, and a dedication to American manufacturing.
Learn more about our collaboration.
This tie was designed by Steve Mayer of Bird Dog Bay.
Features:
Hand Made In New York City
58 1/2 inches in length
3 1/4 inches in width at widest part of tie