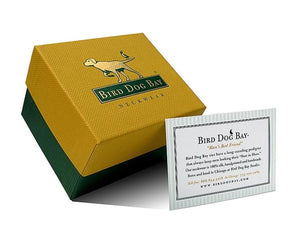 While many know us for our whimsical themes, we've always been there for those who are looking for something a little more traditional. This thin stripe is a good choice for the big wedding day, or just another day at the office. The white background stripe is great for pairing with a shirt of the same color for a clean, sharp look.
Collared Greens and Bird Dog Bay's ties are made by the same manufacturer in New York City. Each tie is a result of years of premium craftsmanship, environmentally friendly production, and a dedication to American manufacturing. 
Learn more about our collaboration.
Our designs are hand-printed on 18 momme, 100% silk, and constructed by hand. Made in the USA.
All of our boys' ties are custom made. Please allow up to 1 week for delivery and all sales are final.