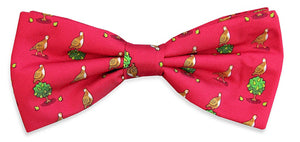 One of the first designs Steve illustrated for Bird Dog Bay was this partridge in a pear tree. With the introduction of both Two Turtle Doves and Three French Hens, we thought it best to re-work the original for our twelve days saga.
Collared Greens and Bird Dog Bay's silk goods are woven, printed, and hand made by the same manufacturer in New York City. Each piece is a result of years of premium craftsmanship, environmentally friendly production, and a dedication to American manufacturing.
Learn more about our collaboration.
Hand drawn by Steve Mayer of Bird Dog Bay.
Our boy's bow ties are adjustable from 13.5″ to 19", with a width of 4.5" and height of 1.75". Our designs are hand-printed on 18 momme, 100% silk, and constructed by hand.
Made in the USA.
All boy's bows are pre-tied clip-ons, to guard against fussy hands.