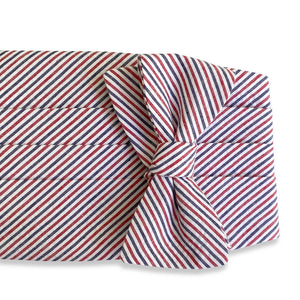 The ultimate warm weather fabric, it's breathable, light yet durable, and cling-free, even if you work up a sweat. This practical cloth doesn't sacrifice style, with a long and storied history dating back to British India, then wildly popular as workwear in the American South. From the mid-20th century, it's been adopted as a dressier, but still casual fabric, that looks as cool as it wears.

This cummerbund set is made from 100% cotton, and constructed by hand in North Carolina. This cummerbund fits waist sizes 30"-38".

Each of our bow ties are outfitted with a fastener next to the hardware slide, allowing them to be tied and unhooked. Our bow ties are adjustable from 15" to 18", with a width of 2.5".

All bows are to-tie, not pre-tied. If you'd like us to pre-tie before shipping, please let us know in the note section at checkout.