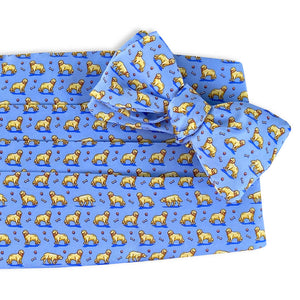 Interested in getting these made for your wedding? Can do! Just let us know through weddings@collaredgreens.com and give us 8-10 weeks.

If you're looking for our new dog design, then you're barking up the right tree! Thanks to some fan requests, Steve drew a puppy-specific design. Take a closer look, every so often there's a little golden retriever backside-sniffing going on.
Good boy!

This cummerbund set is made from 100% 18 momme printed silk, and constructed by hand in the USA. This cummerbund set fits waist sizes 30" - 38".

Each of our bow ties are outfitted with a fastener next to the hardware slide, allowing them to be tied and unhooked. Our bow ties are adjustable from 15"≥ to 18" with a width of 2.5".

All bows are to-tie, not pre-tied. If you'd like us to pre-tie before shipping, please let us know in the gift note section.