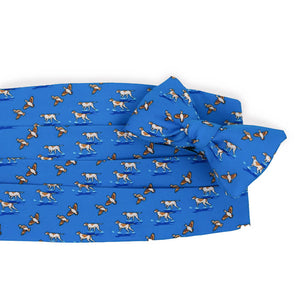 Interested in getting these made for your wedding? Can do! Just let us know through weddings@collaredgreens.com and give us 8-10 weeks.
You drive down ranch roads on a customized rig. You hunt behind a brace of well-trained bird dogs. The thrill of flushing a covey of quail can excite any hunter. Sadly, good hunting days are seasonal and limited. Show your excitement for the sport year-round by tying on a colorful Quail Hunt and looking forward to good hunting days.
Hand drawn by Steve Mayer of Bird Dog Bay.
This cummerbund set is made from 100% 18 momme printed silk, and constructed by hand in the USA.
This cummerbund set fits waist sizes 30" - 38".
Each of our bow ties are outfitted with a fastener next to the hardware slide, allowing them to be tied and unhooked. Our bow ties are adjustable from 15″ to 18", with a width of 2.5".
All bows are to-tie, not pre-tied. If you'd like us to pre-tie before shipping, please let us know in the gift note section.