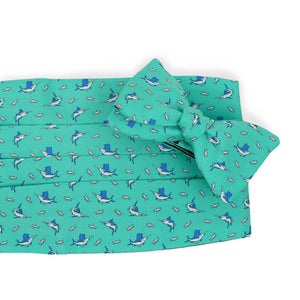 Interested in getting these made for your wedding? Can do! Just let us know through weddings@collaredgreens.com and give us 8-10 weeks.

Now here is a sport fisher's dream: swordfish, sailfish, and marlin. In the traffic jam of activity that is the deep Atlantic, this is another winner you should be proud to reel in. Rod not included.

Hand drawn by Steve Mayer of Bird Dog Bay.

This cummerbund set is made from 100% 18 momme printed silk, and constructed by hand in the USA. This cummerbund set fits waist sizes 30" - 38".

Each of our bow ties are outfitted with a fastener next to the hardware slide, allowing them to be tied and unhooked. Our bow ties are adjustable from 15″ to 18", with a width of 2.5".

All bows are to-tie, not pre-tied. If you'd like us to pre-tie before shipping, please let us know in the gift note section.