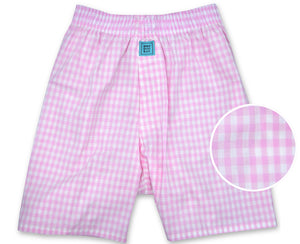 Bird Dog Bay debuted gingham boxers in 2014, and they sold out pretty much right away. Every year since we've tried to increase our stock and meet demand, and every time these classic favorites find a way for running out of inventory. You'll have to get a pair for yourself - these boxers are man's best friend!

Over two years in the making, these Bird Dog Bay boxers incorporate tons of fan input with a fit that is roomy, but not baggy. They utilize an incredibly comfortable three piece construction, with a seamless seat.

Made from 100% ultra-soft 40s cotton, these were made to be worn, and worn, and worn. There will be shrinkage in the dryer, but it will be minimal (less than 5%). If you are in between sizes, we recommend sizing up. Each one is pre-packed in our custom gift boxes. Made in Korea.