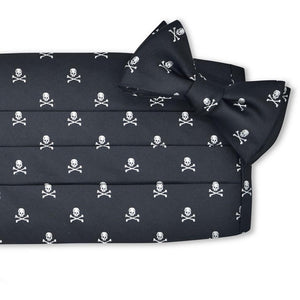 Skull & Crossbones: Cummerbund Set - Black
Dead men tell no tales – but this woven will undoubtedly help you make some of your own! Perfect for any adventure, from Port Royal to New Haven.

Hand drawn by Steve Mayer of Bird Dog Bay.

Our designs are hand-printed on 18 momme, 100% silk, and constructed by hand. Our cummerbund sets expand from 34"-54".

Each of our bow ties are outfitted with a fastener next to the hardware slide, allowing them to be tied and unhooked. Our bow ties are adjustable from 15″ to 18", with a width of 2.5".

All bows are to-tie, not pre-tied. If you'd like us to pre-tie before shipping, please let us know in the note section at checkout.