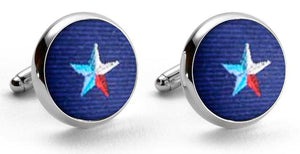 Texas Star: Woven Silk Cuffllinks - Navy
This new design goes out to our fans from Texas. We've come out with several Lone Star State themes, but had requests looking for something a little more traditional. Enter this beatiful woven step and repeat. Come and take it!

Made from 100% silk and crafted by hand in the USA. Each pair is pre-packed in our signature gift boxes.