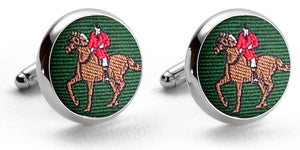 A sophisticated design that Steve loved illustrating, as it brought him back to his roots as an English woven necktie designer. The mounted rider is "in the pinks" and on the lookout for his wily, but elusive, game.

Hand drawn by Steve Mayer of Bird Dog Bay.

Our silk cufflinks are made from 100% woven silk by hand in our Chicago studio. If you see one of our silk ties but not the matching cuffs, know that we have the fabric and can make that specific cuffs just for you!