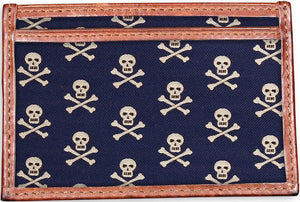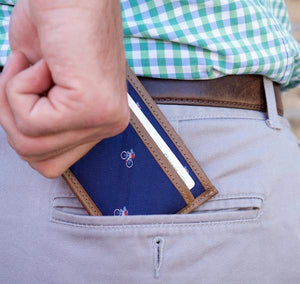 Dead men tell no tales – but this woven will undoubtedly help you make some of your own! Perfect for any adventure, from Port Royal to New Haven.

Hand drawn by Steve Mayer of Bird Dog Bay.

Our card wallets feature our Pedigree English woven designs, crafted at one of England's oldest mills. These woven designs are carefully stitched into top of the line leather, from the internationally renowned fifth generation tannery, Horween, which just so happens to be right in our backyard in Chicago.
The leather back features two pockets for cards and tickets, and is carefully embossed with our faithful Gus logo. The front features one pocket, and the top-middle offers a pocket for cash.

Hand stitched, and hand cut. Made in the USA.
Dimensions: 4" x 3"