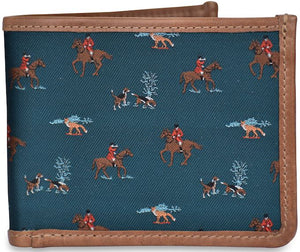 A sophisticated design that Steve loved illustrating, as it brought him back to his roots as an English woven necktie designer. The mounted rider is "in the pinks" and on the lookout for his wily, but elusive, game.

Hand drawn by Steve Mayer of Bird Dog Bay.

Our wallets are made from top of the line Horween leather and feature our Pedigree English woven designs, crafted at one of England's oldest mills.
The leather interior features six pockets for cards and tickets and is carefully embossed with our faithful Gus logo. The top offers a sizeable pocket for cash.

Made in the USA.
Closed Dimensions: 4.50" x 3.75"
Open Dimensions: 9" x 3.75"