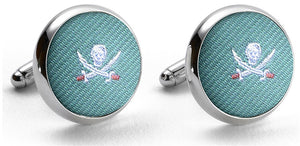 Jolly Roger: Cufflinks - Aqua
Arrrgh! Whether manning the ship's wheel or pursuing other ventures on shore leave, there's no doubt this tie is best paired with a bottle of rum, matey.

We handmake all of our 100% silk cufflinks in our design studio in Charleston. All cufflinks come pre-packed in our gift boxes.