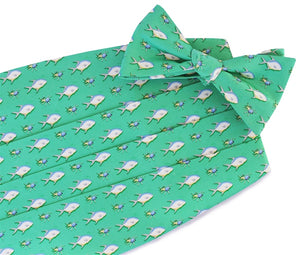 Ever since he was a kid, Steve and the rest of the Mayer clan spent summers in Vail. While Steve still makes it out West a few times per year, he ventured East last season in pursuit of Permit, immortalized here in this cummerbund.

Hand drawn by Steve Mayer of Bird Dog Bay.

Our designs are hand-printed on 18 momme, 100% silk, and constructed by hand. Our cummerbund sets expand from 34"-54".

Each of our bow ties are outfitted with a fastener next to the hardware slide, allowing them to be tied and unhooked. Our bow ties are adjustable from 15″ to 18", with a width of 2.5".

All bows are to-tie, not pre-tied. If you'd like us to pre-tie before shipping, please let us know in the note section at checkout.