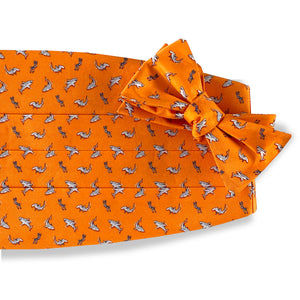 Looks like this diver has bit off more than he can chew with Jaws and his buddies. With a mako, tiger, and hammerhead shark closing in, will Scuba Steve be Amity Island's next victim? Only time will tell...

Hand drawn by Steve Mayer of Bird Dog Bay.

Our designs are hand-printed on 18 momme, 100% silk, and constructed by hand. Our cummerbund sets expand from 34"-54".

Each of our bow ties are outfitted with a fastener next to the hardware slide, allowing them to be tied and unhooked. Our bow ties are adjustable from 15″ to 18", with a width of 2.5".

All bows are to-tie, not pre-tied. If you'd like us to pre-tie before shipping, please let us know in the note section at checkout.