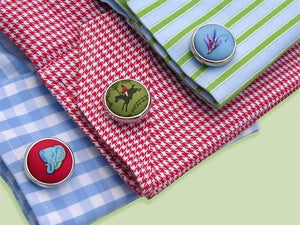 Out Clubbin': Cufflinks - Pink
While many of our other golf ties fit the casual player Steve wished to draw something for the scratch golfer. This design while best at the country club is a nod to the gentleman whose game is at the next level. Not there yet? Tie one on anyway-results are guaranteed to follow! Green jacket not included.

We handmake all of our 100% silk cufflinks in our design studio in Charleston. All cufflinks come pre-packed in our gift boxes.