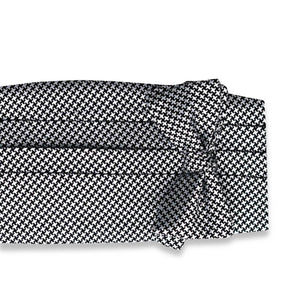 Steve is always on the hunt for ways to diversify our offerings. This new woven is both sophisticated and elegant, perfect for those occasions where you need your best suit on and your shoes shined bright. Just remember: the better your dress, the worse you can behave.

Our designs are hand-printed on 18 momme, 100% silk, and constructed by hand. This cummerbund fits waist sizes 30"-38".

Each of our bow ties are outfitted with a fastener next to the hardware slide, allowing them to be tied and unhooked. Our bow ties are adjustable from 15″ to 18", with a width of 2.5".

All bows are to-tie, not pre-tied. If you'd like us to pre-tie before shipping, please let us know in the note section at checkout.
Interested in getting these made for your wedding? Can do! Just let us know through weddings@collaredgreens.com and give us 8-10 weeks.