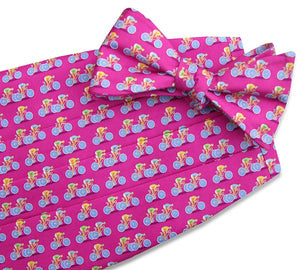 The Coors Classic was an international bicycle race that took place in the Rocky Mountains through the 1970's and 1980's. Steve's family watched those races in downtown Vail Village every summer of his childhood. This design was inspired by a 1981 postcard with that year's street banner art that he kept in his personal design file for over 30 years.

Hand drawn by Steve Mayer of Bird Dog Bay.

Our designs are hand-printed on 18 momme, 100% silk, and constructed by hand. Our cummerbund sets expand from 34"-54".

Each of our bow ties are outfitted with a fastener next to the hardware slide, allowing them to be tied and unhooked. Our bow ties are adjustable from 15″ to 18", with a width of 2.5".

All bows are to-tie, not pre-tied. If you'd like us to pre-tie before shipping, please let us know in the note section at checkout.