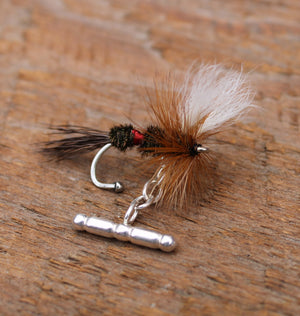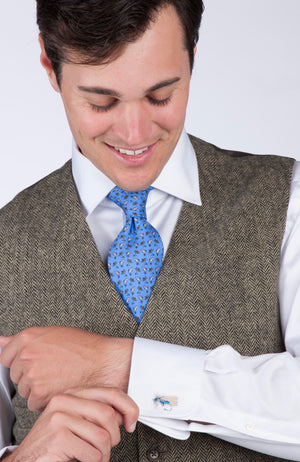 Our lapel pins are brand new and ready to make a fly first impression. These beauties were developed with the utmost emphasis on authenticity; each pin is handmade using true to life fly construction (squirrel tail if you can believe it!) and feature nickel plated hardware. Their field test at a recent dance-heavy wedding proved they are both more durable than they look, and have the magical ability to reel in compliments after some really terrible rug-cutting.
Carefully hand-tied in Chicago.
Each set features authentic, durable materials ensuring a longer shelf life than most of what's in your tackle box. Each fly is specifically designed to go in either the left or right French cuff sleeve for the sharpest possible look. Speaking of sharp, don't worry, these beauties don't have real hooks, and their hardware ensures they'll hold steady all night long.
Each fly link set comes in our custom gift box. Go fish!