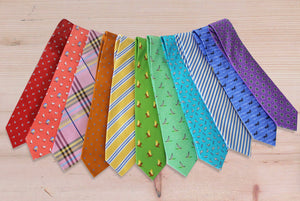 Truly the gift that keeps on giving! With our necktie club, the recipient of your choice will receive a new tie at the start of each month (heck, get it for yourself!) There is no membership fee, hassle of deciding which pair to choose, or gift wrapping... Leave that to us.

Plus, don't forget, twelve ties are worth $1,020; a cool savings of $255.

We're happy to take any suggestions or preferences for colors or patterns, and are pretty good at making suggestions for the guy that's hard to buy for (we should not be trusted with fantasy sports advice).
Our neckties are hand made In New York City from 100% silk. Each one measures 58 1/2 inches in length and 3 1/4 inches in width at widest part of tie.