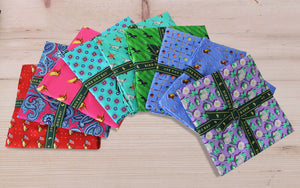 Truly the gift that keeps on giving! With our pocket square club, the recipient of your choice will receive a new pocket square at the start of each month (heck, get it for yourself!) There is no membership fee, hassle of deciding which pair to choose, or gift wrapping... Leave that to us.

Plus, don't forget, twelve pocket squares are worth $480; a cool savings of $155.

We're happy to take any suggestions or preferences for colors or patterns, and can match pocket squares to ties, just let us know.